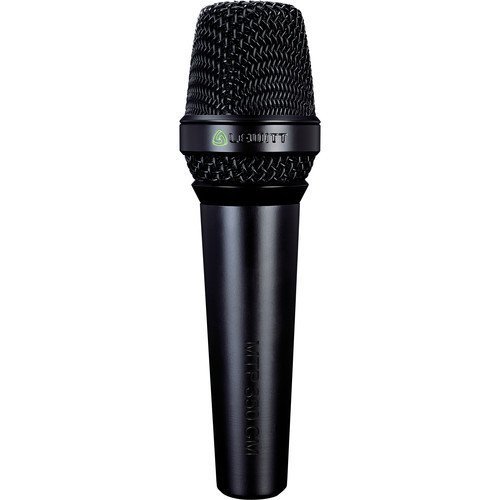 Lewitt MTP 350 CMs microphone
01262
Product Details
PRODUCT HIGHLIGHTS
Condenser Mic for Live Vocals
Cardioid Pickup Pattern
Recessed On/Off Slide Switch
Gold-Plated XLR Output Connector
Runs on 48V Phantom Power
90 - 20,000 Hz Frequency Response
Includes Shock Mount
Includes Artificial Leather Bag
---
The Lewitt MTP 350 CMs is a professional handheld vocal condenser microphone that can be used for a variety of live performance applications for bands, singers, venues, lecturers, and more. It features a convenient recessed On/Off switch, gold-plated XLR output connector, and a cardioid polar pattern.
The mic includes an internal shock mount and a fully rubber-mounted capsule, enabling low handling noise. A built-in spherical wind and pop filter helps to help catch vocal plosives.






Frequency response shaped specifically for demanding vocal applications, with brightened midrange and bass roll-off
Rich and detailed condenser sound for accurate reproduction
Uniform cardioid pickup pattern for maximum isolation of the main sound source
Withstands high sound pressure levels
Effective integrated acoustic pop and windshield offers excellent protection without compromising high-frequency clarity
Full-metal, die-cast body for rough daily touring routine
Hardened hexagonal ruthenium-galvanized steel mesh grille to prevent wear and abuse
Minimally affected by varying load impedance
Corrosion-resistant gold-plated 3-pin XLR output connector
Includes MTP 40 MCs shock mount and DTP 40 Lb artificial leather bag

---

CAPTURE EVERY NUANCE

Rich details - Maximum precision

The MTP 350 CM provides rich and detailed condenser sound. This models' tailored frequency response always allows for maximum precision and unsurpassed clarity, taking vocals to the next level. The MTP 350 DMs variant is additionally equipped with an on/off switch.

Rich and detailed sound.

The MTP 350 CM is a condenser vocal microphone with a thin diaphragm condenser capsule. This brings a high level of sonic clarity to your vocal performance.

Feedback-proof

The MTP 350 DM has an amazingly consistent polar pattern across its entire frequency spectrum. Even with more than half of the wire mesh cup covered, it will not lose any rear rejection. Everything below the LEWITT ring can be gripped by the artist's hand of the artist without causing the FOH engineer to even lift even a single finger.

Maximum ruggedness for the daily touring routine

The structure-in-structure architecture provides the basis for the MTP series' ruggedness. The outside enclosure of wire-mesh cup and ring is made of sturdy spring steel while the body consists of durable zinc die cast parts. The inner enclosure is made of resilient but lightweight nylon reinforced ABS. This design ensures the best possible protection for rough daily touring routines.

Lowest handling noise

Our internal dual shock mount system achieves the most effective handling noise elimination. Refined rubber suspensions provide the best possible dampening of unwanted structure-borne noise caused by hand-movement.
Save this product for later